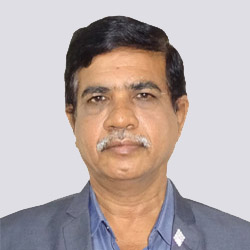 Dr. V. Ranga Rao
Pricipal
Dear Students and Parents,
It gives me immense pleasure to welcome you all to Chalapathi Institute of Technology, Accredited by NAAC with 'A' Grade, an eco-friendly campus that strives with a goal to attain excellence by empowering students with sound knowledge, wisdom and experience. Our strength lies in creating pleasant ambience with an excellent infrastructure, qualified and experienced faculty, commitment to personal care, motivation to excel in academic/extracurricular activities and continuous interaction with industry.
Over the past 13 years, the institute has witnessed a strong blend of state-of-the-art infrastructure and dedicated human resource committed to provide professional education with thrust on creativity and innovation. The motivating environment in CIT for knowledge assimilation, generation and dissemination with a sense of social responsibility, human values and concern for environment has carved a niche for itself among the best technical Institutes.
"A desire can change nothing, a decision can change something but a determination can change everything".
Be committed with strong determination to learn and reach new horizon, CIT will shape you for a successful and rewarding career.