Chalapathi Educational Society, Guntur was formed in 1995 by Sri Y.V. Anjaneyulu an outstanding academician and a philanthropist with a vision for sparkling future to set up and to promote such educational institutions of excellence that would reorient general, technical and professional education with a holiest approach. He has been President for R.V.V.N.College, Amaravathi, Guntur. He held the position of SenateMember of Acharya Nagarjuan University, Guntur and he is Ex-Member of Legislative Assembly of Government of Andhra Pradesh.
Chalapathi Educational society offers fountains of knowledge and has emerged as a premier and one of the best educational societies in Andhra Pradesh. It could realize and visualize the significance of the quality education when the dwellers of Guntur region were yearning for a full fledged Academic Institution. Above all, it mainly imparts the students to develop skilled personality along with masterful education.
Chalapathi being the name of the "Lord Venkateswara" in his adolescence suggested the noble restlessness of questioning minds who advance humanity in their search for answers. It was decided that every institution promoted by this Society would bear "Chalapathi" as a prefix.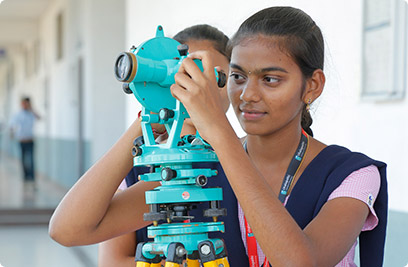 At this the burning objective of the college is to promote flowery education which is indispensable and useful for the society with professional and ethical values through the divine centres of excellence. Unique in its structure, amazing methods and goals, the college is strongly rooted in a philosophy of training and research thatemphasizes the intimate relationship between knowledge and its application and seeks to promote the creation of an ideal society.
It is packed up with green belt, free from pollution and it is very near to the Historical place Amaravati at the banks of river Krishna where Kalachakra was held and this is the place where we got sculptures of Buddha. Situated in Mothadaka, Guntur. an ideal place for higher learning, The taught are exposed to congenial atmosphere for diligent academic pursuit in Chalapathi Institute of Engineering and Technology.